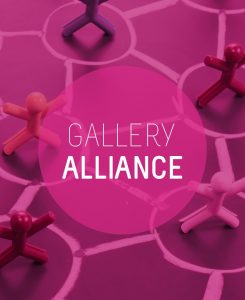 As part of its specialist professional networks, CHEAD operates a Gallery Alliance to:
• Provide a professional network for colleagues with Galleries and Collection in the CHEAD membership
• Promote knowledge and understanding throughout and beyond the gallery network
• Promote and shares best practice between members and associated gallery networks
• Promote galleries and associated resources as part of the research, knowledge transfer, scholarly scholarship and public engagement infrastructure for art and design.
Below is a directory of galleries within our network and more useful resources and materials are planned.
A one day Gallery Alliance symposium was held on Friday 10th November 2017 for those in the network including a speaker and workshop session at the Falmouth School of Art, a tour of The Exchange in Penzance culminating in a tour of the newly opened Tate St Ives. The workshop produced these outcomes.
A follow-up meeting took place on Friday 23rd March in Bath. Attendees heard from Holburne Museum Director, Chris Stephens and had a private view of the State Rooms collection at Corsham Court.
Avenue Gallery
Main contact

Suzanne Stenning -

Gallery Administrator

Email

Suzanne.stenning@northampton.ac.uk

Phone number

01604 735500

Details

Avenue Gallery offers a diverse programme of temporary exhibitions which reflects the range of activities and academic ambitions within the Faculty of Arts, Science and Technology. As well as showcasing student work and staff research, we host external exhibitions which engage with the wider local, cultural and academic communities and organise regular displays of historic posters from the University's Osborne Robinson Poster Collection.
Bath Spa University Art and Design Collection
Main contact

Laura Brown -

Email

l.brown@bathspa.ac.uk

Phone number

07708 195124

Details

The collection aims to document the history and works of past and present students and staff of Bath Spa University and its predecessor colleges, and to preserve the creative and historical activities associated with the University and its sites.
Bradford College Textile Archive
Main contact

Helen Farrar -

Curator

Email

h.farrar@bradfordcollege.ac.uk

Phone number

01274 433257

Details

Bradford College Textile Archive celebrates Bradford's industrial, educational & cultural history since it emerged as the world leading pioneer affectionately named Worstedopolis in the nineteenth century. The Bradford College Textile Archive is located within the historic Lister Building which was built in 1911, its original purpose being to replicate a vertical mill for the instruction of workers in textile manufacturing methods. The collections within the Archive offer rich inspiration for designers and authentic records for academic researchers of the textile industries, and local social and economic history.
Camberwell Space
Main contact

Daisy McMullan -

Gallery Coordinator

Email

camberwellspace@camberwell.arts.ac.uk

Phone number

020 7514 6402

Details

Camberwell Space is a public gallery that initiates and presents an annual programme of internationally significant exhibitions in a new purpose-built space located within Camberwell College of Arts. Working in collaboration with professional artists, designers and curators, shows are made in response to, and as an extension, of the curriculum taught at the College. The new gallery space offers our community the opportunity to engage with a high quality and original exhibition programme that provides new perspectives on current debates in contemporary art, design and craft.
Creative Space CCI
Main contact

Denise Callender -

Faculty Promotions Manager

Email

denise.callender@port.ac.uk

Phone number

023 9284 5197

Details

Creative Space CCI is the Faculty of Creative and Cultural Industries outlet for all of its news, events and activities.
East Gallery, Norwich University of the Arts
Main contact

Dr Caroline Fisher -

Curator

Email

c.fisher@nua.ac.uk

Phone number

01603 756231

Details

East GalleryNUA is an exciting, city centre gallery space showcasing the best modern and contemporary art through its curated exhibitions programme. Exhibitions are originated by Norwich University of the Arts or the result of collaborations with a range of significant national and international partners.
Exhibition Research Lab, Liverpool John Moores University
Main contact

Professor Joasia Krysa -

Director

Email

J.M.Krysa@ljmu.ac.uk

Phone number

0151 904 1187

Details

Exhibition Research Lab is the first academic centre and contemporary art  gallery in the UK dedicated to the interdisciplinary study of exhibitions  and curatorial knowledge. Founded in 2012 as part of Liverpool School of Art and Design, the Exhibition Research Lab is uniquely positioned across academic and the cultural ecology of Liverpool, underpinned by collaborative posts held by staff with Tate Liverpool, FACT (Foundation for Art and Creative Technology), RIBA North (The Royal Institute of British Architects), and Liverpool Biennial.

Exhibition Research Lab extends the traditional remit of an art gallery as a site for display or pedagogical resource, to an expanded gallery or 'lab' where experimental thinking and  making takes place, and where artistic and curatorial knowledge is enacted, produced and made public.
Gallery North
Main contact

Dr Mark Jackson -

Senior Lecturer in Critical Theory and Curatorial Practices

Email

ad.gallerynorth@northumbria.ac.uk

Phone number

0191 232 6002

Details

Gallery North is the main art gallery based at Northumbria University, Newcastle. As well as an ambitious programme of challenging exhibitions, the gallery works regularly with the curatorial research group NEUSCHLOSS and is linked to Gallery North Project Space.
Lethaby Gallery, Central Saint Martins, University of the Arts London
Main contact

Laura McNamara -

Creative Producer: Gallery & Public Events

Email

l.mcnamara@csm.arts.ac.uk

Phone number

0207 514 9897

Details

The Lethaby Gallery is dedicated to the creative talents of students, staff and alumni of Central Saint Martins. From fashion and art to design and performance, it publicly celebrates the College's past and present while enthusing/stimulating/inspiring and provoking about our collective futures.

With its doors opening onto Granary Square at King's Cross, the Lethaby Gallery delivers an ever-changing insight into one of the world's best arts and design colleges.

Founded in 1896, the gallery was named after the founding head of the Central School of Art and Design – later Central Saint Martins – William Richard Lethaby, whose teaching bridged the gap between the academic and the practical, the thought and the thing, a practice which continues at the College today.
OpenSpace at Axis Arts Centre
Main contact

Jodie Gibson -

Director

Email

j.gibson@mmu.ac.uk

Phone number

0161 247 5618

Details

The Axis OpenSpace plays host to a range of contemporary art practices and processes, primarily but not exclusively in relation to the Axis Performance Programme. Operating as a space between the performance disciplines of Dance, Theatre, Creative Writing and Music, the OpenSpace provides access to the processes and ideas of art and performance that exist across and between these areas.