Reorienting the Art School: panel discussion
This session is focussed on reorienting the art school, how this has been impacted by COVID-19 and the pivot to virtual. The panel will consider reconceptualising the studio, and the implications for art and design higher education as we move forward. how the established model of an art and design school, with its community and focus on 'studio and practice-based' learning is being questioned. The integrity of an art school experience is being challenged.
This session asks:
How do we avoid the 'snapback' to normal?
What is the new normal for the art school in a post digital world?
How do we maintain an art school focus in the face of change?
How do we keep the creativity but re-position our behaviours to make the changes we want to make given these changes?
Dates & times
17th March 2021
10:45 am –11:55 am
Professor Vicky Gunn
Head of Learning and Teaching, Glasgow School of Art
Prof Vicky Gunn joined The Glasgow School of Art as the Head of Learning and Teaching and Professor in Arts and Humanities in Higher Education in November 2014. Prior to that her academic career was at the University of Glasgow where she was Director of the Learning and Teaching Centre. She became a Professor of Learning and Teaching there in summer of 2014.
Abid Qayum
Head of Technical Services, Royal College of Art
Abid Qayum is the Head of Technical Services at the Royal College of Art, London. He leads the team of Technical specialists that provide support for Art, Design, Communication, Humanities and Architecture. The Royal College of Art is the UK's only entirely postgraduate university of art and design, dedicated to teaching, research and knowledge exchange with industry. Abid is a specialist in Digital Media and worked as a Creative and Project Manager in various Arts organisations before he joined Higher Education. He has worked in a number of HEI's and has hands-on experience of administrative, technical and professional services within universities. Prior to joining the RCA in 2012, he was the Technical Manager at the London College of Fashion, UAL. Abid is the founding member of the European Technical Network – ETHO. ETHO is a network of higher art education technical staff. Established in 2016, with the primary aim to advance hands-on learning and innovation in all artistic disciplines through an inclusive community.
Chi Vo
2019-2020 Student President, Duncan of Jordanstone College of Art and Design
Chi Vo is a final year graphic design student at DJCAD, University of Dundee, Scotland. She has worked towards enhancing the learning experience and welfare of Art & Design students in her school. Among other things, Chi initiated to set up the first-ever student meditation room on campus at DJCAD. During 2019-2020, as the School President, she coordinated with the school to help students who were affected by Covid-19 overcome difficulties. Chi always tries to apply academic work to practice and has received several awards, including the John Byrne Award and 'Future of Learning' hosted by the Scottish Institute of Enterprise. Her works were exhibited at Gallery 48 and Dundee Pride event in 2019. In the past, she was the Deputy Manager and Executive Producer at the award-winning Tay Production, the only student TV production in Dundee.  Currently, she is the co-creative director for 'Gannochy', a medical journalism publication at the University of Dundee.
Professor Kit Wise
Acting Deputy Pro-Vice Chancellor Learning & Teaching and Dean of the School of Art at RMIT University, Australia
Professor Kit Wise is currently Acting Deputy Pro-Vice Chancellor Learning & Teaching and Dean of the School of Art at RMIT University, Australia. He has held senior educational leadership roles since 2008, including Director, School of Creative Arts, as well as Interim Director of the Creative Exchange Institute at the University of Tasmania; and Associate Dean Education in the Faculty of Art Design & Architecture at Monash University; He remains an Adjunct Professor at both universities. He is Chair of the Executive Council of ACUADS (Australian Council of University Art and Design Schools) and Secretary for the Deans and Directors of Creative Arts, Australia.
Kit also practices as an interdisciplinary artist, art writer and curator. He has held over 15 solo exhibitions in Australia, America and Italy, exhibited in group exhibitions in Australia, China, Taiwan, Korea, the UK, France, Germany, Italy, Spain and Holland; and has published numerous articles, reviews, book chapters and catalogue essays.
Thomas Lawson
Dean, School of Art, CalArts
Thomas Lawson is an artist with a diverse, project-driven output. He has exhibited paintings at MetroPictures in New York, Anthony Reynolds in London, David Kordansky Gallery and LAXART in Los Angeles, and in numerous other galleries and museums around the world. From 2002 until 2009 he was co-editor of Afterall Journal, a joint publication between Central Saint Martins College of Art & Design, London and CalArts. Since 2009 he has been Editor-in-Chief of East of Borneo, a collaborative online magazine and archive of contemporary art, as seen from Los Angeles. He has also curated various exhibitions of younger artists for such venues as Artists Space and P.S.1 in New York and the Municipal Art Gallery in Los Angeles, and was a co-selector of the British Art Show in 1995.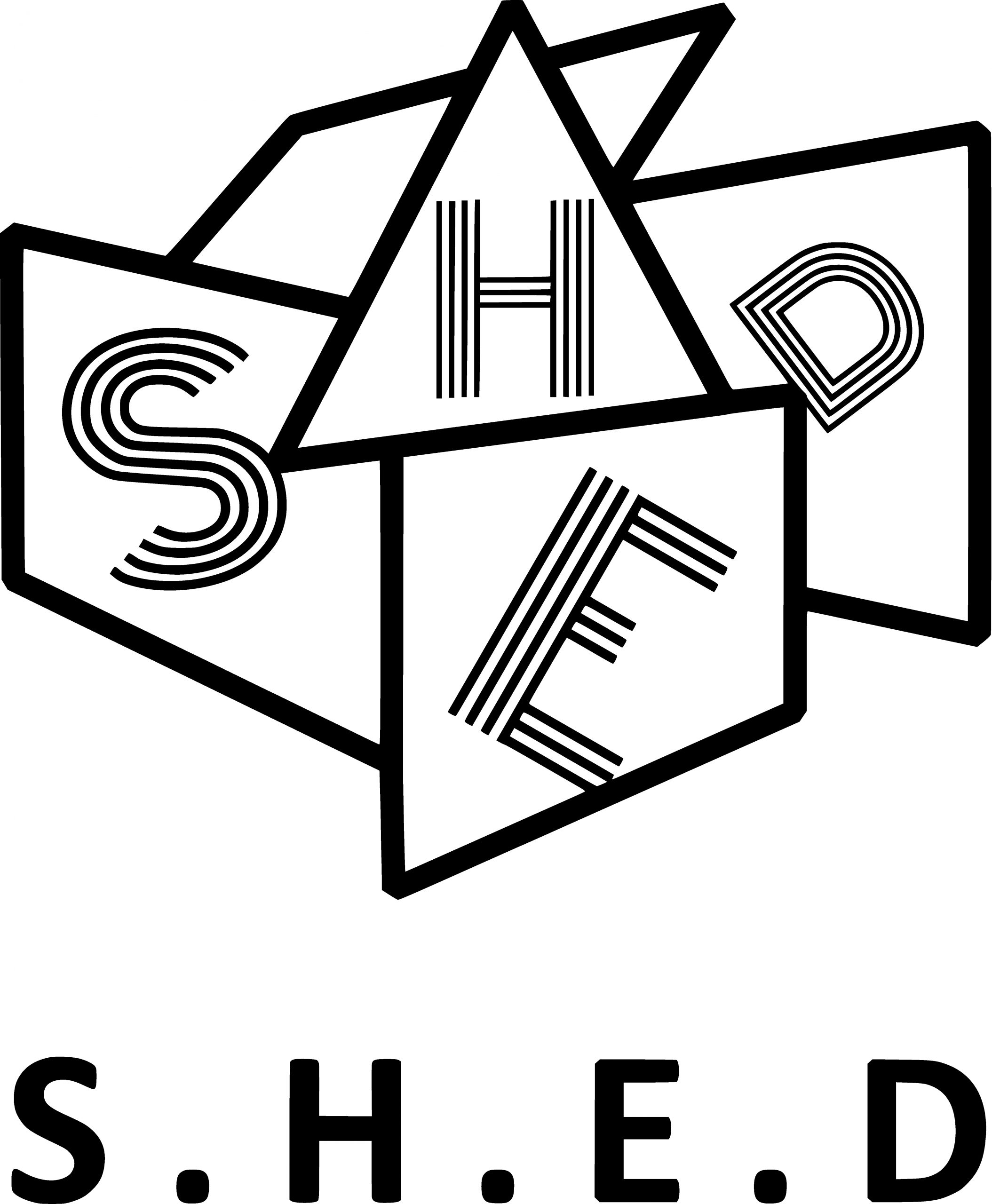 S.H.E.D – Social Higher Education Depot has taken the premise of a garden shed and created a mobile, reconfigurable space for the shedding of preconceptions about people and place. S.H.E.D has over 11 designs, that were developed with the aim of supporting co-creative practice as art-making that invites participation and explores real issues people want to discuss.
 It is positioned as a curatorial, consultation, lab and public space. S.H.E.D combines design and dialogue theory.
Shortlisted for Shed of the Year 'Unexpected Category' 2020
Finalist, Green Gown Awards 'Benefiting Society' Category, 2020
Follow S.H.E.D's work on Twitter @Shed_UK and Dr Jones's research into dialogue at @InDialogueUK.
S.H.E.D is run by:
CEO / Creative Director – Dr Rhiannon Jones
Business Development Director – Dr Victoria Barker
Operations Director – Sarah Webb