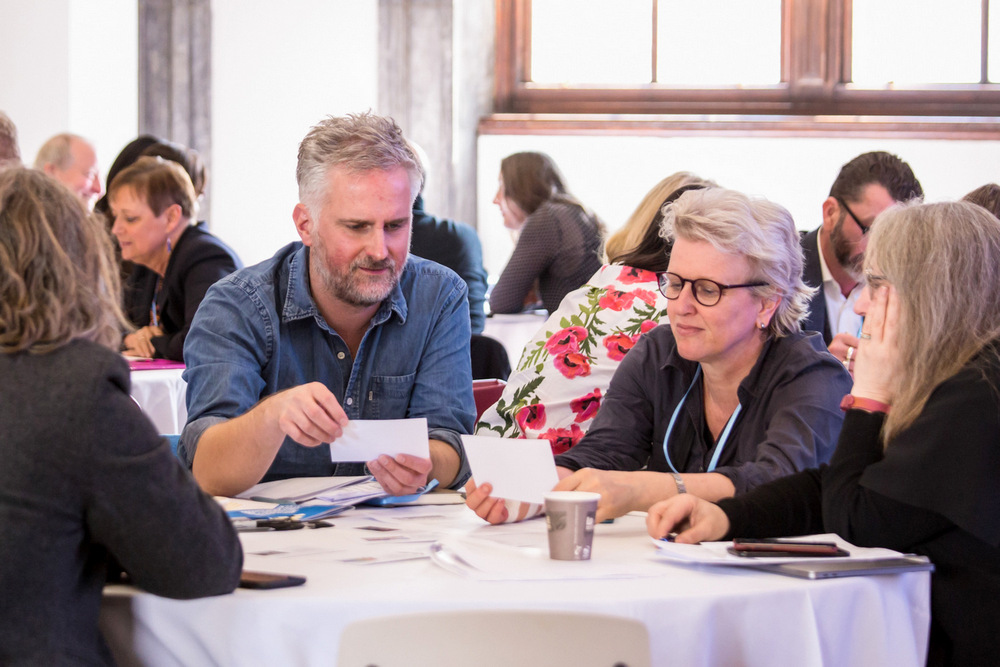 Date
17 Mar 2021
- 18 Mar 2021
Time
9:30 am - 4:30 pm
Cost
Free
CHEAD Annual Conference 2021
The Challenge of Change: The value of creative education supporting inclusion and diversity
Aims of the Conference
The fusion of cultures within CHEAD has created a unique community characterised by "Unity without Uniformity" – our diversity is our strength. This conference will explore how our community is responding to change by embracing diversity.
To celebrate the union of art and design across culturally diverse domains, how our openness and differences are our strengths and are a powerful catalyst for change.
To advocate for step-change in the dynamics, benefits and value of an increased and expansive focus on diversity and inclusivity in arts education.
Content: To explore how we can develop the breadth of art and design education to encompass diverse and underrepresented art forms, engage all audiences and enrich creative education by embracing a wide range of influences and practices.
Context: To engage with emerging opportunities and contexts for transformational change addressing how our people, practice and provision should draw on and reflect the full range of backgrounds and perspectives to be found in our contemporary society.
Themes
Drivers of change: Political, Economic, Societal/Cultural and Technological.
Dynamics of change, diversification and transformation: Embracing a diversity of influences and cultural inclusivity as an opportunity for transformational change. Making change strategically significant.
Capturing change in the academic role. Future academic leadership roles, inclusive recruitment, developing and reflecting better workplace representation, equality, resilience and adaptability.
Showcasing diversity in people, practices and provision across arts schools and multi-disciplinary institutions as a catalyst for change. Addressing imbalances of power, who speaks, who listens, who hears and acts?
Critiquing the civic engagement agenda, who leads change in place-based strategies and regeneration, the challenge of working proactively and inclusively with communities, partners and diverse organisations and settings.
Exploring our commitment to diversity and equality and the changing demographics of academic and student profiles. Are we fit for purpose?
Conference Papers
Delegate Information
Delegate joining instructions can be downloaded here
Conference Programme can be downloaded here
Recommendations of places to visit in Birmingham can be downloaded here
Recommendations of places to eat and drink in Birmingham can be downloaded here
Ikon Gallery Map can be downloaded here
Birmingham City University campus map can be downloaded here
Birmingham City Centre map can be downloaded here
Birmingham Art Map Spring 2020 can be downloaded here
About our Sponsor
a-n is the largest artists' membership organisation in the UK with over 23,000 members.
We support artists and those who work with them in many practical ways, acting on behalf of our membership and the visual arts sector to improve artists' livelihoods. We have a reputation for providing compelling insights and playing a catalytic role in influencing and informing cultural policy.
By being part of a-n, our members benefit from guides, insurance, bursaries, jobs and opportunities, events and resources and lend their voice and weight to the advocacy work we carry out on behalf of the sector. We offer a range of memberships for artists, including a Student membership package and a license membership for higher education institutions via Jisc Collections.
a-n has produced an annual Degree Shows Guide for over a decade, which profiles UK courses, presents new talent and supports up-and-coming artists.
As an acknowledged leader in the field of research and information about contemporary visual art, a-n provides tutors and lecturers with practical resources about the art world and job market. We support student learning and employability in the visual arts, equipping students with the kinds of information and advice they need to navigate the transition from education to professional practice as artists, alongside opportunities to build their networks.
To find out more a-n.co.uk/join
CHEAD Conference on Social Media
We will be using the hashtag #CHEAD2020 to record outputs from key discussions at the conference, we hope you will join in the discussion online.
Hourly Schedule
Tuesday 16th March 2021
18.00pm

-

20.00pm

Pre Conference Reception

Ikon Gallery, 1 Oozells Square, Brindleyplace, Birmingham B1 2HS
Wednesday 17th March 2021
09.30am

-

10.00am

Registration

Birmingham School of Art
10.00am

-

10.15am

Welcome to Birmingham City University

Birmingham School of Art
10.15am

-

11.00am

Keynote: Baroness Floella Benjamin OBE

Birmingham School of Art
11.00am

-

11.30am

Refreshment Break

Birmingham School of Art
11.30am

-

12.00pm

Panel Sesssion: Drivers of Change

Birmingham School of Art
12.00pm

-

13.00pm

Flex or Flux?

Birmingham School of Art
13.00pm

-

14.00pm

Lunch

Birmingham School of Art
14.00pm

-

16.30pm

Afternoon Tours

Various locations
18.30pm

-

10.00pm

CHEAD Annual Dinner

Birmingham Museum and Art Gallery, Chamberlain Square, Birmingham, B3 3DH
Thursday 18th March 2021
09.15am

-

09.15pm

Refreshments, CHEAD Trustee Elections Voting window

Floor 5, Curzon Building, Birmingham City University
09.30am

-

9.35am

Introduction to the second day

Floor 5, Curzon Building, Birmingham City University
09.35am

-

9.45am

Statement from our sponsors a-n

Floor 5, Curzon Building, Birmingham City University
09.45am

-

10.15am

Professor Alison Honour, PVC Birmingham City University

Floor 5, Curzon Building, Birmingham City University
10.15am

-

10.40am

Dr Angela Partington, Associate Dean Learning & Teaching, Kingston University

Floor 5, Curzon Building, Birmingham City University
10.45am

-

11.1.15am

Panel session: Drivers of Change

Floor 5, Curzon Building, Birmingham City University
11.15am

-

11.45am

Refreshment Break

Floor 5, Curzon Building, Birmingham City University
11.45pm

-

13.00pm

Breakout session

Floor 5, Curzon Building, Birmingham City University
13.00pm

-

14.00pm

Lunch

Floor 5, Curzon Building, Birmingham City University
14.00pm

-

15.00pm

CHEAD Annual General Meeting

Floor 5, Curzon Building, Birmingham City University
15.00pm

-

16.00pm

Workshop session

Floor 5, Curzon Building, Birmingham City University
16.15pm

-

16.30pm

Plenary & closing refreshments

Floor 5, Curzon Building, Birmingham City University